Chicken and potato lasagna
This is a really simple, cheap, and comfort food type meal. It's really kid-friendly too, because most of the time they can't see the vegetables in it! I've seen a few recipes for it (though I can't remember the actual name, so the one I gave it will have to do for now) but I have changed some of it to work for me. The meal consists of these basic things: Mashed potatoes, boneless chicken, frozen veggies, and shredded cheese. Because you can ommit and customize this dish pretty easily, I'm not going to make a list of ingredients, and just basically write more or less how I prepare it.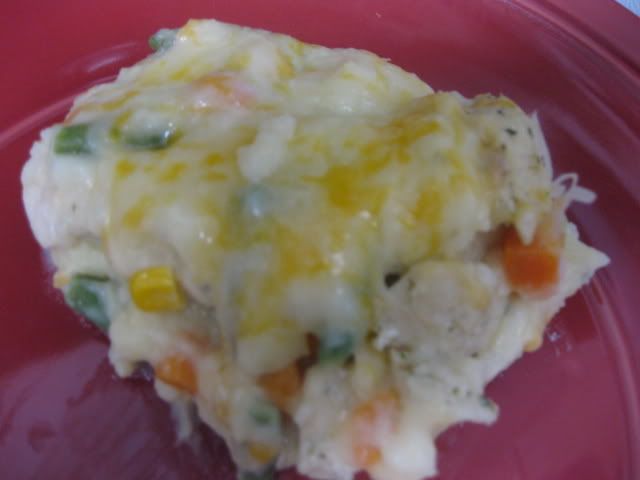 For the mashed potatoes, I use instant because of the fast cooking time. To the water, I add chicken boullon. It makes mashed potatoes taste a billion times better. Chicken or Vegetable broth could be used, too. I add some garlic, and a bit of butter. Usually, I start with enough for six servings, but I must admit that I always have to end up making a bit more because you're going to ultimately use it to layer the top and the bottom of your pan. Once I'm done making the potatoes, I set them to the side to cool.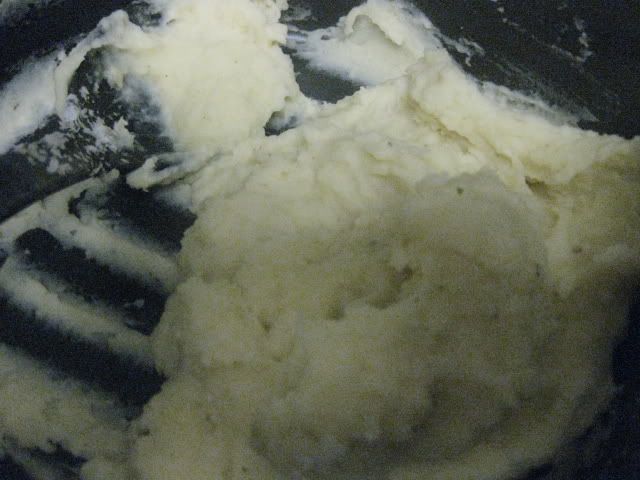 Then, I cut up my chicken into bite sized pieces. I buy the big bag of boneless skinless frozen chicken breasts, and use four small to medium sized breasts. I season them with whatever I have on hand. Once I've seasoned it, I coat my pan with some olive oil, and start to cook my chicken. Try to make sure it's as juicy as possible because it's going to end up going in the oven for a bit and you don't want it to be dry. I've also in the past breaded the chiciken and fried it but that is an extra step to me that isn't particulary needed, especially in a time crunch.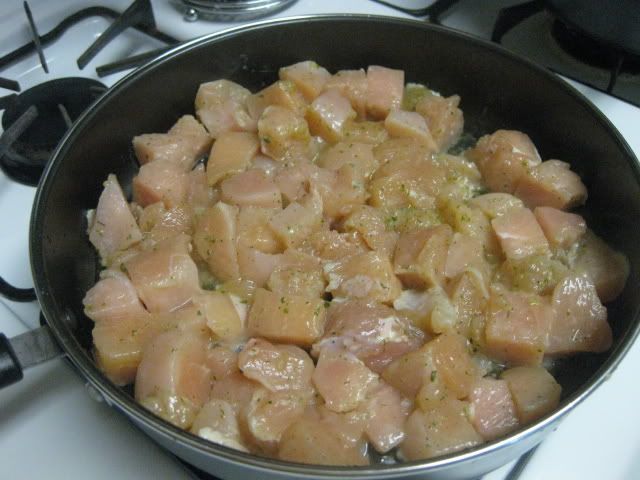 Once that is done, I mix my chicken in with some thawed frozen veggies. You can esentially use whatever you have, but I prefer to use a pack of mixed vegetables that brings carrots, corn, green beans, and peas.



I then grab my mashed potatoes, and make my first layer on the bottom of a pan which I've coated with Pam so that nothing sticks.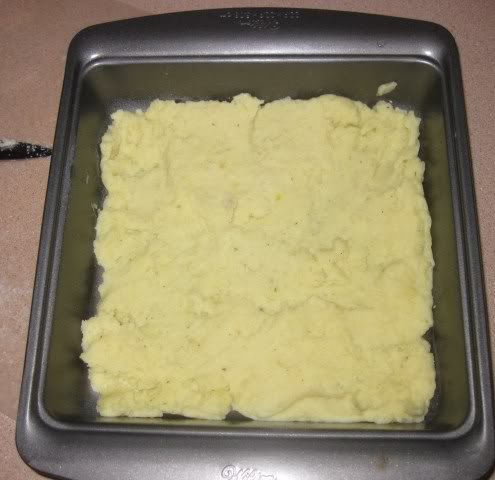 I add the chicken and vegetable mixture in the middle, followed by the last mashed potato layer.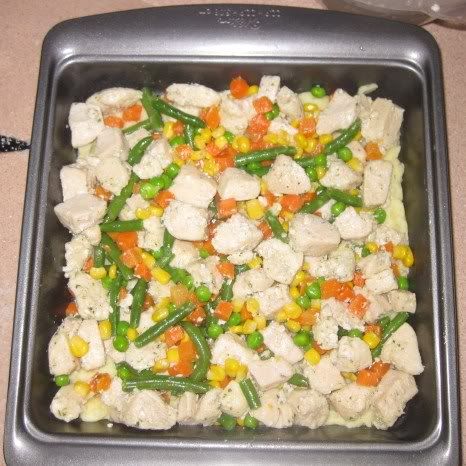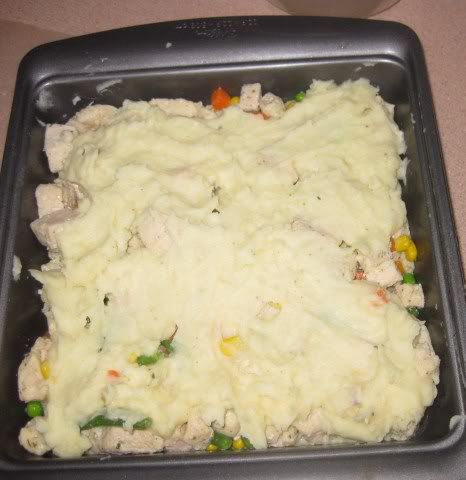 Finally, I throw some shredded cheese on top, and stick it in the oven.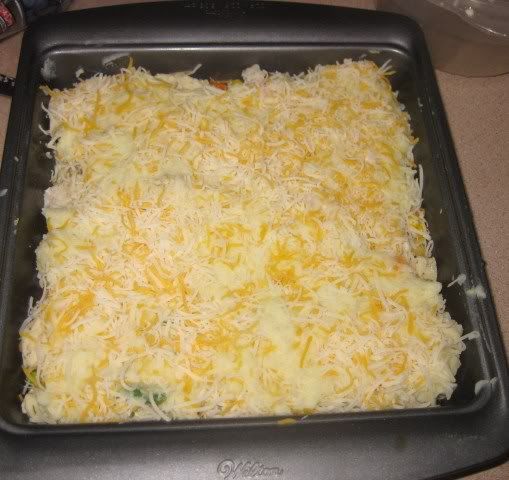 Since everything is already cooked, all you really want to do is melt the cheese and heat up the vegetables some. I put it in the oven at 250 degrees for about 20mins to half an hour. Some recipes I've seen have called for cream of chicken or sour cream to be added to the chicken and veggie part, but I have found that to be way too runny and unecessary. It also makes the cooking time much longer.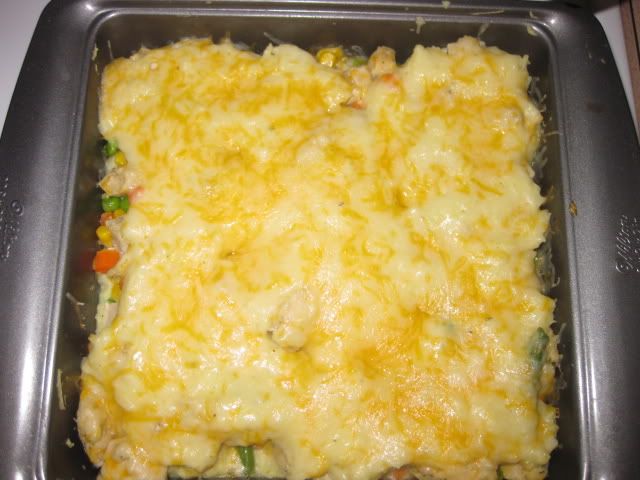 Lastly, plate and enjoy!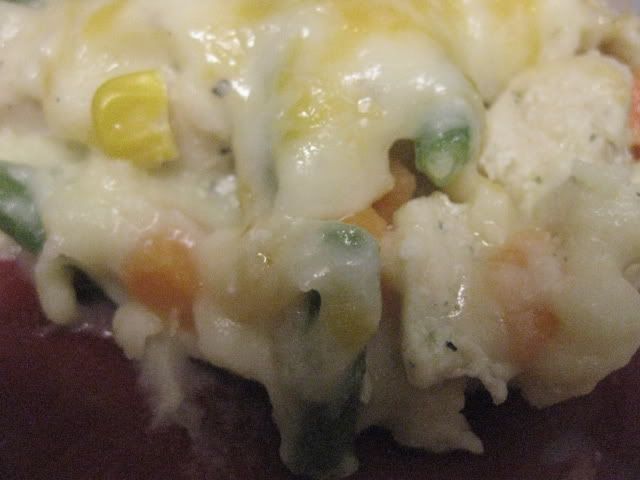 Crossposted to my journal, and
ama_cooks